We offer an academic experience that is demanding and challenging — yet at the same time, we understand that joy, laughter, play, and movement are integral to our development as humans. When our 3rd Graders visit the Hudson River to study its ecosystem, they spend time playing with the water, writing poems about what they experience, and painting watercolors of what they see. We are also fortunate to have beautiful and bountiful outdoor space on our Bronx campus, and our students take advantage of this each and every day by lying in the grass on the Quad or sitting together in the garden outside the library. They feel the sun on their faces. They share a laugh among friends before heading off to class.
We create opportunities for fun and playfulness in our curriculum in a variety of ways. When students in our lower schools practice Spanish, they do so playfully by recreating every day activities like visiting a restaurant or going to the doctor. They engage their imaginations while learning new skills. At Fieldston Upper, we offer a science course all about food. Have you ever wondered what makes a French fry so delicious? Or about the molecular makeup of a brownie? We encourage our students to play with their food — while practicing advanced chemistry. And one of our 5th Grade math teachers wrote a song about pi — both catchy and informative.
The Greeks are their names names names names And geometry's their game game game game Yeah, yeah Cause pi goes on and on and on, It goes on and on and on….

To the tune of "Dynamite" by Taio Cruz
Sometimes the outdoors comes in: our 1st Graders raise chickens or ducks inside their classroom, caring for the baby birds from incubation to hatching. It's a wonderful and hands-on way for them to learn about the life-cycle of these birds — plus, it's pretty cute. (Don't worry: once the ducklings or chicks are old enough, they're driven upstate and released into the wilds of Westchester.)
Play and creativity work closely together, and we try to offer as many opportunities as possible for our students to express their wonderful creativity. In our digital studio, students of all skill levels learn to create musical compositions using state of the art technology. By the end of the year-long course, students will have produced CDs and a SoundCloud account of their compositions. Students also have the chance to collaborate with both the film and dance departments to create original scores for their peers.
We offer a comprehensive and rigorous dance curriculum, but we also offer courses to students of all skill levels who just want the time and space for joyful movement. Any student may choose to take a weekly dance class designed to get them moving, sweating, and connecting with their bodies. Students learn popular choreography from movies, Broadway shows, and music videos. Students have fun, express themselves, and get their heart rates pumping.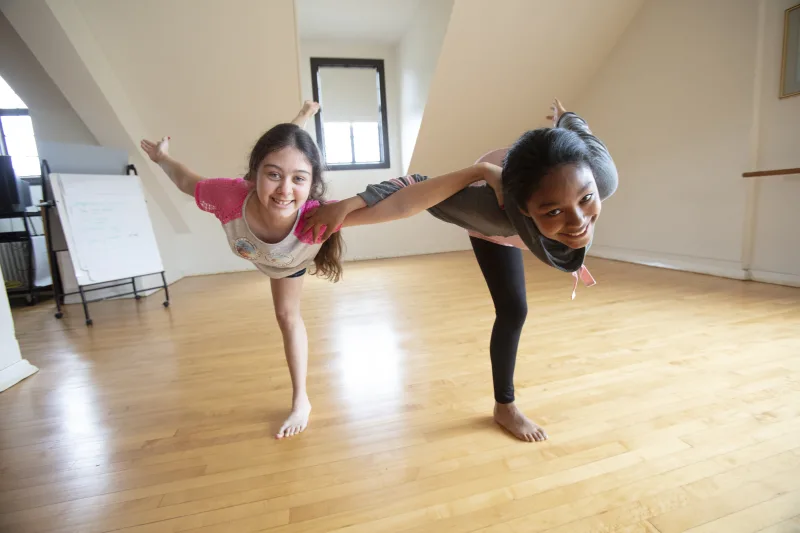 Play and movement are vital to our work at all ages. In keeping with progressive practice, students learn by doing — and sometimes on their feet as faculty teach using games and songs. For us, challenge and laughter are often complementary. We also ensure students have plenty of time outdoors, both when studying and in times of leisure. Above all, we find ways both intentional and spontaneous to demonstrate joy, gratitude, and excitement for our experience and each other.