The Ethical Culture Fieldston School offers a world-class progressive education in Pre-K–12th Grade at two historic campuses in Manhattan and the Bronx. The core of our educational program is the study and practice of ethics, which prepares and compels us to take care of our world, ourselves, and each other.
At ECFS, we don't teach students what to think, what to question, or what to explore — but how to think, how to question, and how to explore. Our tenets of progressive education focus on the whole child, ensuring that education is responsive, relevant, experiential, and playful, among other traits. Click here to read more about the core tenets that guide every aspect of our curriculum.
With an enduring commitment to excellence, equity, and inclusion, we inspire a diverse and joyful community of passionate learners, critical thinkers, and ethical individuals who aim to make the world more humane and just.
ECFS at a Glance
---
Our Story
The Ethical Culture Fieldston School was founded by the humanitarian leader Felix Adler in 1878 to ensure that all children would have access to a quality education. Then known as the Workingman's School, it emphasized moral education, psychological development, and integration of the creative and manual arts with academics — key components of what we now know as progressive education.
In 1895, the Workingman's School became the Ethical Culture School and its management passed to the governing board of the Ethical Culture Society. In 1899, the School established a secondary school.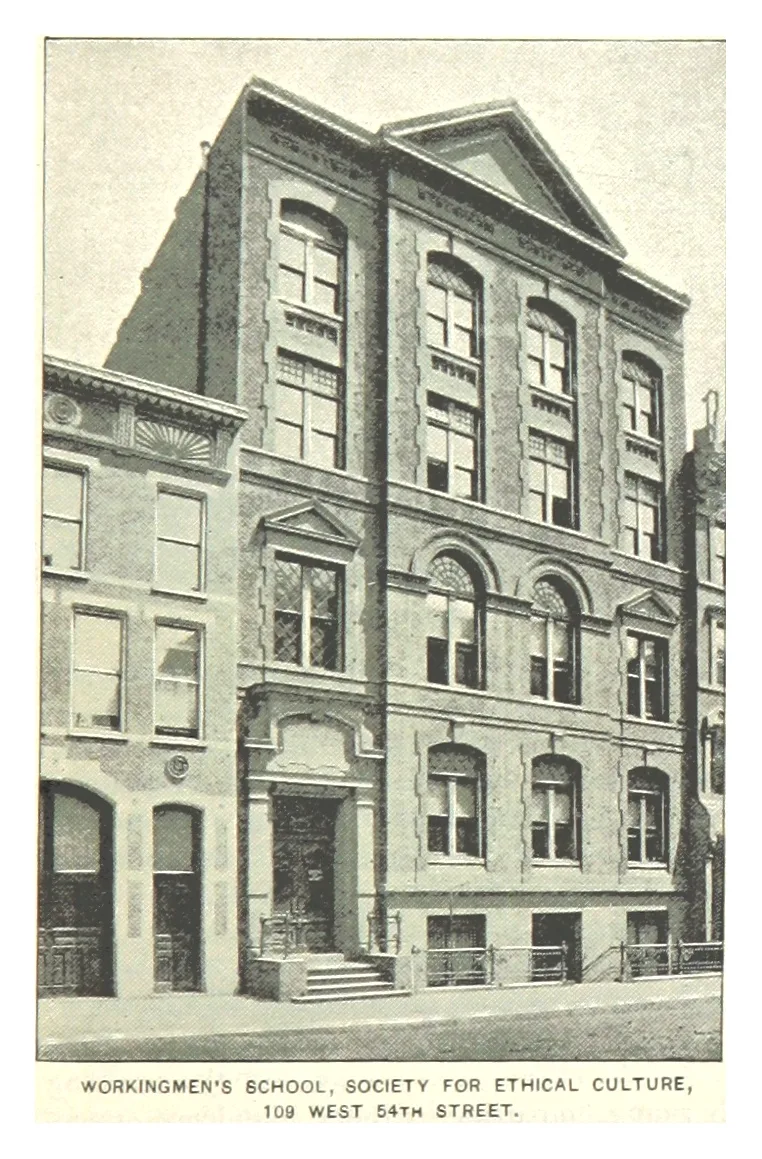 In 1904, the Ethical Culture School constructed a new building at 33 Central Park West, which currently houses the Ethical Culture division, one of our two lower schools. By the mid-1920s, the School had outgrown its quarters and sought to expand its vision for both primary and secondary education. In 1928, the School opened a beautiful wooded campus in the Bronx. A second lower school, Fieldston Lower, followed on the Bronx campus in 1932.
In 1995, the New York Society for Ethical Culture voted to set up the School as its own legal entity with a self-governing board of trustees.
In 2007, we opened Fieldston Middle, also on the Bronx campus.
Our Head of School, Joe Algrant, began his tenure as Head of School in the summer of 2022. Click here to read a welcome note from Joe.
---
Our Mission
Felix Adler's educational vision is as important today as it was when the Ethical Culture Fieldston School was founded in 1878. To continue to realize that vision, we embrace the following ideals:
Ethical learning
The exploration of what it means to be an ethical and responsible member of society forms the core of our curriculum and our school community. We value inclusion as well as economic and racial diversity. We honor all of our students for their unique contributions, cultural backgrounds, and beliefs. As we consider service to be critical to the development of character, we incorporate community service into our students' school experiences from the earliest grades.
Academic excellence
Our School achieves academic excellence by challenging students to reach their highest potential in body, mind, and spirit through the humanities, the sciences, the arts, and physical education. Students become active learners and engage in vital discourse in an atmosphere of intellectual discipline and creativity fostered by a community of dedicated teachers.
Progressive education
Through a curriculum rooted in our tenets of progressive education, students become independent thinkers as they learn that asking their own questions and seeking their own answers are key to the deepest kind of understanding. Cooperative, student-centered, discussion-based learning and the freedom to make mistakes are part of our students' everyday lives.
---
Our Leadership
ECFS is a community in partnership — we aspire to transparency and collaboration in all that we do. The Executive Leadership Council and the Administrative Council are groups that lead the conversation about our priorities and help guide the steps we take as a school.
Executive Leadership Council
Administrative Council
Board of Trustees
Our Trustees play a shared role in leading the School, focusing on governance while the Head of School oversees management. Their primary responsibilities are to set policy, monitor the functions of the School, and collaborate with the Head of School to steward the financial health of the School, ensuring that the necessary resources are in place to further our mission and achieve strategic priorities.
Among the Trustees are alumni, parents, faculty, leaders of the New York Society for Ethical Culture, and Honorary Trustees who act in the undivided interest of the School to carry out our mission with integrity, diversity, equity, and inclusion, both today and into the future.
Trustees
Ethan Binder
Juan Botella
Margot Bridger
Eunu Chun
Danny Crawford
Anand Desai
Akin Dorsett '88
Sharan Gill
Pooja Goyal
Andrew Holm '01, Treasurer
Atif Khawaja, Secretary
Rob Lewin
Vivian Lin
Seth Meisel
Patty Moreno-Fletcher
Jo Natauri
Kathleen O'Connell
Jon Roure
Jonathan M. Rozoff
Dana Sirota
Min Young Song
Kimberly Smith Spacek '91, Board Chair
Lance Taubin '06
Krishna Veeraraghavan, Vice-Chair
Rielly Vlassis
Josh Vlasto '00
Stephanie Wagner
Jeff Walker, Vice-Chair
Joe Algrant, Head of School, Ex-Officio
Liz Singer, President, Society Board, Ex-Officio
Honorary Trustees
Laura Jacobs Blankfein '71
Susan Sarnoff Bram '81
Charles Debrovner
Samuel C. Florman '42
Nina P. Freedman '73
James A. Gara '72
Ken Glassman
G. Angela Flemister Henry '75
Anne Klaeysen
Meghan Mackay
Sara E. Nathan '71
Robert A. Pruzan '81
Nori Rost, Society Leader
Paul Schnell '72
Tracy Chutorian Semler '82
S. Donald Sussman
Judith Dreitzer Wallach '49