On Thursday 1/6, one year after the insurrection at the Capitol, Fieldston Upper students gathered with their advisories to work through a Community Curriculum. This particular Community Curriculum was developed in collaboration with the Diversity, Equity, and Inclusion (DEI) department; the Technology department; and the Fieldston Upper administration. Here, we learn more about the curriculum from those who were instrumental in planning this event.
Give us an overview of the Community Curriculum.
Ahrm Wild, Director of the Progressive Teaching Institute and Fieldston Upper Diversity, Equity, and Inclusion Coordinator: We didn't want to activate or trigger anyone with images of the insurrection, so we started thinking about what skills might be necessary to examine the events leading up to January 6. It felt important that these skills be useful not only to critically examine this event, but also future events and the historical patterns they fall within. As we engage more than ever with news outlets and social media, we hoped that media literacy could help us examine the relationships between "truth" and "power," the systems they work within, and the agency that lies in our ability to be critical of our formal and informal news. With so many ways for people to author and make public their versions of events, we wanted to dedicate time to building our understanding of the ways that bias, white supremacy, and capitalism impact the construction of "truth" and whose story gets centered.
Rashad Randolph, Fieldston Upper Assistant Principal for Student Life: Building on that, the Community Curriculum wasn't focused on the insurrection per se. It was about media bias and framing the conversation about January 6 through a critical lens. We asked students to think about where they get their news from, the accuracy of the sources, and the importance of using a variety of sources.
Charlotte Selous, Ethics and Technology Coordinator: The Community Curriculum was an opportunity to raise awareness around the role that social media played in the spread of misinformation and disinformation leading up to the insurrection, and encourage our students to develop critical media literacy skills to be used in digital spaces.
How did your various departments collaborate?
Randolph: The Community Curriculum was led by our DEI Coordinator, Arhm, and our Director of Community and Inclusion, Russell Marsh, in collaboration with Ingrid Sabogal and Charlotte from our Technology Department.
Wild: Charlotte edited an amazing video that the four of us prerecorded to guide advisories through the Community Curriculum. All Advisors and Fieldston Upper staff were trained on the materials during a divisional meeting before Winter Recess and were responsible for facilitating the discussion times built into the recording. Affinity group spaces were set up afterwards with the help of affinity group advisors. A special thank you to the facilitators!
Selous: We are thankful we were brought in to support the DEI team's critical media literacy work!
What skills did you want students to come away with?
Randolph: It wasn't about a "skill" per se, but rather the opportunity to reflect on how we receive news and how the media affects our interactions. We used January 6 as an example of how the media influenced the events of the day (pre, during, and post).
Wild: The big picture was that it was important that students develop skills to critically examine this event, but also future events and the historical patterns they fall within.
Selous: We don't discourage young people — or anyone else — to look to social media for news, especially as it has democratized information access and undermined the power structures that control whose story gets told. We did want students to think actively about their social media use, and understand the dynamics and choices that determine what content is shown to them. We wanted students to walk away with an understanding of when and how they can control what types of information they share and are shared with them on social media. We also wanted students to think critically about the information, media, and narratives they encounter. The end goal is for students to engage with information-sharing on social media in a safer and more thoughtful way.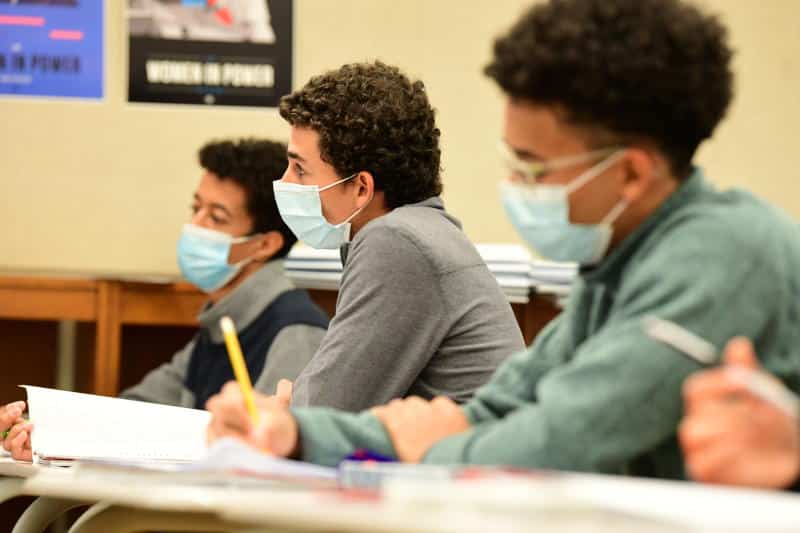 How is it "community building"?
Randolph: It was a great example of allowing community members/students the opportunity to come together and discuss some commonalities in how they receive news, the influence that it has on them, and how they, in turn, process that. Anytime we can give our students the space and time to be together in dialogue it's an example of "community building."
Wild: Advisors also shared that the chance to have a meaningful conversation allowed the students an opportunity to get to know each other better and build relationships. Creating trusting relationships is crucial in moving equity work forward, and every Community Curriculum hopes to create an opportunity for relationship building to happen through dialogue, empathy, and respect.
It is also an example of community building as people received the same foundational information. This common ground allows for more meaningful and nuanced conversations that can hopefully move the dial on our ability to talk across differences, come to common understandings, and build upon our ethical toolkits.
Selous: Thinking long-term, any time students reflect on communication, knowledge, and power, they take steps toward building a healthier community grounded in empathy and thoughtfulness.