If you ask a group of older students at ECFS about their fondest memories of 4th Grade at Ethical Culture, brace yourself to hear a recurring theme: the 4th Grade play, of course! Undoubtedly one of the most anticipated events of the year, the 4th Grade play is a revered and cherished tradition at Ethical Culture, where students are given the opportunity to showcase their boundless creativity.
This year, students were presented with a unique challenge. They would not only perform a play on stage, but they would write it! With the help of Music Teachers Amy Travis and Angela Dixon and teaching artist from the Brooklyn Arts Exchange Crystal-Marie Alberson, students started from scratch. Back in October, Alberson began visiting the 4th Grade music classes to jumpstart the creative process with theater games! These games not only got students comfortable with different forms of expression but proved to be a great way to brainstorm themes and ideas.
"The first month was meant for gathering information," explains Alberson. "I wanted to see how the students worked together and discover what they were interested in." At the beginning of each class, students were presented with a question. These tasks would range from "What do you love the most?" to "Make a list of the things you find inspiring."
"Things that kept coming up were relationships, memes, technology, managing emotions, the spoken and unspoken rules of life, and their roles in facing the problems of our world," says Travis. "When we thought about all of these things, it felt like we were exploring the various areas of their minds."
Some of Alberson's earliest observations were that students were thoroughly interested in self-expression and had identified that being one's self is brave. She also noticed that many of the students were interested in acknowledging the benefits of having a healthy relationship with technology.
It was from these games and brainstorming sessions that the final concept emerged: "Come On In: The Mind of a Fourth Grader." Students set their sights on creating a fascinating journey through the brain of a typical 4th Grader, exploring the different "rooms" such as the amygdala, cerebrum, cerebellum, hippocampus, neurons, and prefrontal cortex.
During that first month, the teachers worked with students to navigate through many elements of theatre — from building an ensemble and playing with movement and sound to writing a script as a group — to devise a cohesive play collaboratively.
"Each of these days ended with a moment for creation," Alberson explains. "In these moments, students worked together to create dances, stage pictures, mantras, and melodies."
After several weeks of generating ideas and deciding on a concept, it was time to write the script! Students were split into groups — each representing a specific part of the brain — and given six thematic prompts to help them develop a scene between multiple characters. "Watching the students set up their own collaboration process was fascinating," says Alberson. "They had to vote for who would be the note-takers, share the audio space, and elaborate on each other's ideas."
Using a comic book-style storyboard, students were tasked with organizing their scene into a beginning, middle, and end, with visuals and dialogue. They also created a loose idea of how the stage would look during their scene and wrote a five-line poem, which Travis would later use to write the lyrics of their group's song!
According to Alberson, over 80% of the lines from the students' original scripts were used in the final draft, and students were always allowed to present and request script changes. "It was so impressive to watch these young learners take on such a complex topic and organize it in an engaging and entertaining way," says Dixon.
Preparing for the play extended far beyond the music classroom. Because students had decided to explore the different "rooms" of the brain, they needed to learn important background information. When Travis and Dixon brought this up in the 4th Grade team meeting, Science Teacher Jen Erdman took the idea and ran with it! "[Jen] added an entirely new unit to the students' science curriculum so that students would better understand how the brain functions," says Travis. "It was fun to see the students make connections from what they learned in science to what we were working on in music. At first, they thought it was just a really strange coincidence, but then they figured out that we had planned it that way!"
Alberson designed a T-shirt logo that would serve as the students' costume, and Art Teacher Kate Eady worked with the students to create paintings of large brains that would decorate each side of the stage. Also, Shop Teacher Leonard White even helped to create the door that the student actors would walk through as they entered a "room" of the brain.
With a final draft of the script and newfound knowledge of the brain, the students were ready to learn their lines and begin rehearsing! "Like many real-world productions, we began with a table read, looking at the words only and exploring which characters the students wanted to play," explains Alberson.
With guidance from their dedicated teachers, the students took on many roles, from playwrights, directors, and stage managers to actors, dancers, and songwriters. The 4th Graders were always workshopping and looking for ways to evolve the narrative. "Perhaps a note on a character's emotional state would come to light during a dress rehearsal, or we would discover a comedic moment while in the middle of practicing a song!" says Alberson.
Dixon added that together, "the students were constantly revising, reshaping, and fine-tuning, which is part of what devised theatre is all about!"
After months of preparation and practice, the students were finally ready to perform. As the curtain rose, the excitement in the room was palpable. As soon as they began to sing the opening number, nerves melted away, and the 4th Graders were completely immersed in their roles.
"Come on in, take a little tour with us," And take the audience on a tour, they did! In each "room" of the brain, the students invited the audience to peer through the window into what a typical 4th Grader thinks about each day.
In the cerebrum, technological devices came to life, and students imparted a lesson to use technology respectfully and to find a balance between our "tech lives" and our "actual lives." In the cerebellum, we learned to appreciate our friendships and to be kind to one another, and in the hippocampus, "Johnny Cheddar" encouraged the audience to find healthy methods for managing stress. Within the neurons, we learned how to resolve conflict, and in the prefrontal cortex, the student actors reminded us to tune into what is right when making tough decisions. And, of course, in the amygdala, the audience was treated to an all-important lesson from the Upstanders: we experience many emotions daily, so we must remember to center self-love and compassion.
The audience was captivated by the 4th Graders' performance, and the actors could feel the enthusiasm and energy radiating back at them. The play was a testament to the hard work of our students and to their teachers' commitment to fostering a creative and intellectually curious environment that encourages them to explore and express themselves.
Once the curtain closed, students, teachers, and parents/guardians enjoyed a cast party to celebrate their success! Here, students were asked to reflect on their experience preparing for and performing in the play:
"The most memorable part of the 4th Grade play was on the last day, singing the end of the finale, because I knew this was the end and the LAST time I would be singing that, in the auditorium with the rest of the 4th Graders." — Zoe C. '31
"One of the most memorable moments… was when they forgot to unscramble the code that said 'FRIEND.'" — Teddy F. '31
"…listening to the applause" — Charlie S. '31
"I enjoyed running through the entire play because we got to see other half groups' creations and their interpretations of the prompt that they were assigned." — Sabrina S. '31
"…my costume breaking [in the Technology Scene] so I had to do a turn instead of a cartwheel." — Emi S. '31
"I felt that the experience was interesting and colorful in my eyes because I have never done something like this." — Charlie D. '31
"…performing in front of everybody and spreading our creation." — Eve C. '31
"My most memorable moment… was definitely when everyone was in the hallway celebrating that we pulled it off." — Esmé T. '31
The 4th Grade play team would like to also acknowledge the dedicated parents/guardians that helped with costumes, props, and the cast party. The Costumes and Props Committee was led by Jennifer Deppe Parker and included Miriam Cohen, Nicole Ben-Dor, Sejal Shah, Lauren Robins, Michelle Rickert, Diana Pessin, Jill Fink, and Sally Whitehill. The Cast Party Committee was led by Dana Farouki and included Danielle Friedman, Yvonne Kenney, and Isabel Lo. 
One line from the closing number echoes an important sentiment of the entire process: "We're so proud of our minds, minds, minds!" Congratulations to the 4th Graders on a fantastic production!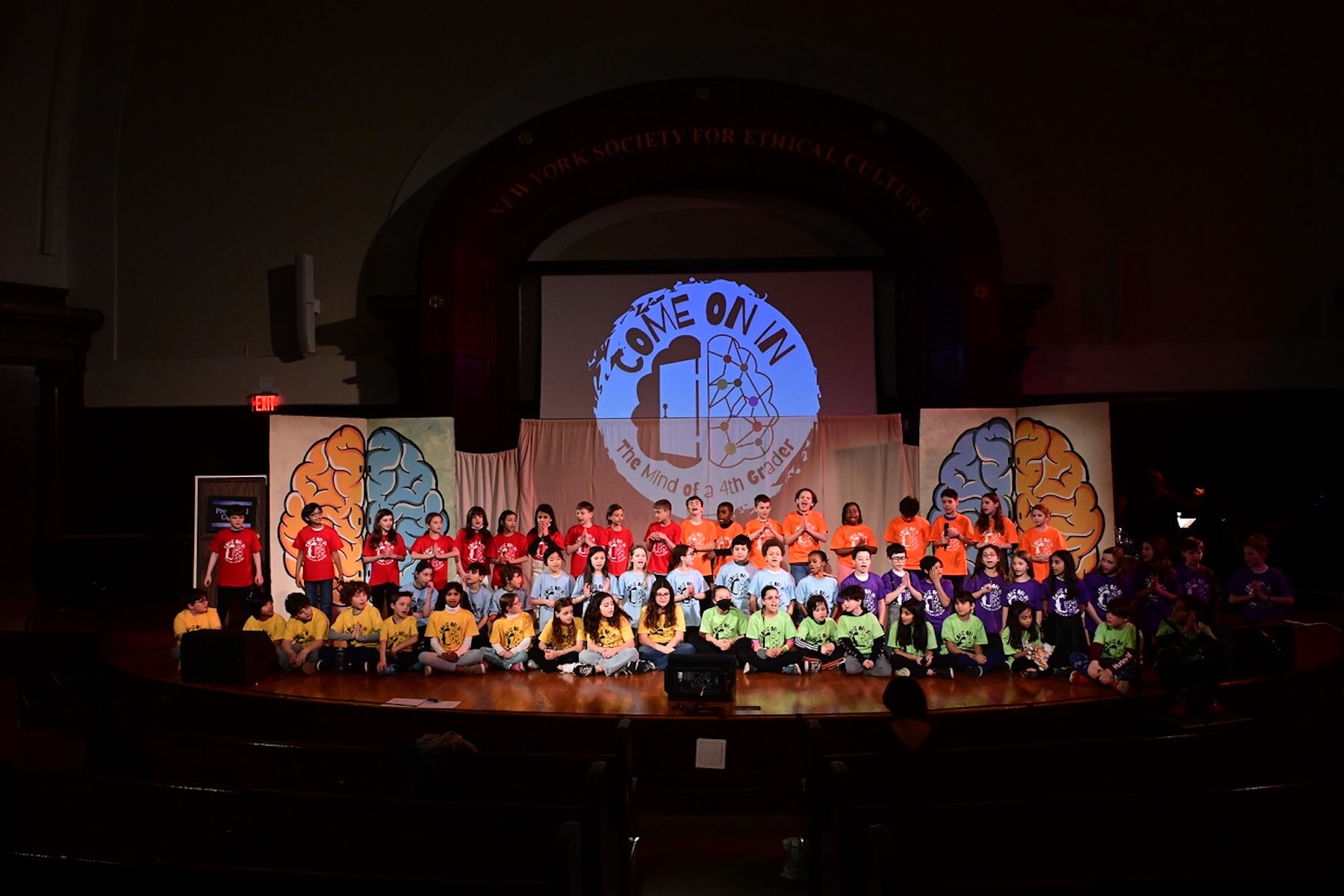 If you missed the live performance, click here to watch a livestream recording!