Over the course of their three years at Fieldston Middle, students experience an ethics-based curriculum that will grow more complex throughout high school. Engaging with these topics often entails applying their growing knowledge to real-world scenarios both within and outside of their School community. While 7th Graders recently explored their place in the Fieldston Middle community for their capstone project, 8th Graders were tasked with learning how to effect change in the broader community of New York City.
"In 6th Grade, the students focus on who they are as a learner, and as 7th Graders, they investigate who they are as a community," says Science Teacher and Grade Level Coordinator Stephanie Behrens, who oversaw the 8th Graders' project alongside History Teacher and 8th Grade Dean Savi Tuber. "In 8th Grade, we are looking beyond Fieldston and giving back to our community at large by partnering with alumni organizations to give back in a meaningful way."
Each 8th Grade advisory was assigned to research and partner with an organization in the New York metropolitan area that Ethical Culture Fieldston School alumni are currently involved with. After learning more about the organization's purpose and team members with their advisors' guidance, the students collaborated to create a short documentary film capturing this process and determining how to give back to the organization meaningfully. Over several weeks, alumni representatives met with advisories both in-person and virtually to discuss their work and participate in documentary filming. As Tuber told the 8th Grade when alumni visited the Fieldston campus, these graduates are now "doing cool stuff out in the world."
Advisories' organizations included Plan A Advisors (Pillier advisory), Healthy Humor and Red Nose Day (Behrens and Klausz advisories), The Clean Fight (Lapsley advisory), East Harlem Scholars (Gill advisory), StreetSquash (Wyman advisory), Hear Your Song (Watson advisory), the Japan ICU Foundation (Kurtz advisory), the Juvenile Diabetes Research Foundation (Tuber advisory), the NAACP Legal Defense Fund (Wright/Elwood advisory), New York Cares (Cantarella advisory), and the Robin Hood Foundation (Garcia-Lopez advisory). At the start of the project, all students contributed to group research, learning more about their organization and its mission statement and then crafting questions and observations for upcoming interviews. Next, each advisory assigned individuals the roles of interviewers, writers, film/music/sound editors, photographers/cinematographers, graphic designers, and managers. Behrens and Tuber emphasized selecting jobs based on students' interests and talents, and each group also pledged that they would do their best to complete their assignments and acknowledge the importance of everyone's contributions and perspectives. 
"I have been able to work on my team-building skills, and it is cool to see the uniqueness that each of us brings to the table to bring the project together as a whole," says Sarah J. '27. "I also got to learn about how such a small organization can have such a big and mighty impact that supports the group."
Students' research was piqued when many of their alumni partners visited campus for tours and filming sessions. As Behrens and Tuber explained to students beforehand, some alumni had attended the School before there was a separate Fieldston Middle building, and others hadn't visited the campus in several years. This warranted enthusiastic tours of the Fieldston Middle building, during which 8th Graders took alumni to visit their former advisors, snapped photos of their experience, and picked their favorite spots on campus to film their interviews.
"It is great being with the alumni on campus, watching them talk to the students about their experiences, and having them point out memories along their tour," Behrens says. "Watching one of the alumni connect with his former teacher and coach, Bob Montera, was heartwarming and amazing to see."
"As a student, Fieldston's teachers inspired my curiosity and nurtured my values," says Adam Gaynor '92, who oversees Green-Wood Cemetery's strategic planning process as a partner at Plan A Advisors. "Arguably, it is because of Fieldston that I pursued a career in the nonprofit sector. And what a treat it was to run into one of my favorite teachers on my tour with the students!"
One advisory brought Jennifer Gonzalez Goldschein '95, P'27, P'29, Chief Development Officer of New York Cares, to the park on the outskirts of campus for their interview. Student cinematographers and photographers determined their best camera angles before others began to ask their guest questions. As she explained her organization's goals, Gonzalez Goldschein asked the 8th Graders, "When you hear the word 'volunteer,' what do you think of?"
"I am continuously impressed by the maturity, poise, and intellectual curiosity of the Fieldston Middle students," Gonzalez Goldschein says. "From their project management skills to their diverse set of questions, the students were prepared, professional, and ready to work!"
"I was really impressed by their level of engagement and thoughtfulness, and by how they worked together as a group," Kate Frucher '88, Co-Founder and Managing Director of The Clean Fight, shares. "Their questions built on each other so that, together, they delved deeper into understanding what The Clean Fight does and how business innovation can be a tool in combating the climate crisis."
During their meetings, students also identified connections to alumni that went beyond attending the same School.
"One student asked how my Fieldston experience helps me support youth at Hear Your Song, and then another student asked whether my Fieldston experience ever made it more difficult for me to connect with some of the youth I work with who come from different educational backgrounds," says Dan Rubins '12, Executive Director and Co-Founder of Hear Your Song. "I love that students are already thinking critically about how the privileges of Fieldston could potentially create hurdles as we grow as alumni towards other communities. It's the kind of question I didn't start pondering until I was a senior — I'm so glad for the students and grateful to their teachers that they're already thinking this way."
This observation is apparent in other alumni's perception of the School's influence. "ECFS played a crucial role in helping me understand the importance of being involved in one's community and how we as citizens must work to level the playing field for those who have fewer resources," adds Executive Director of StreetSquash George Polsky '87, P'20, P'21, P'25.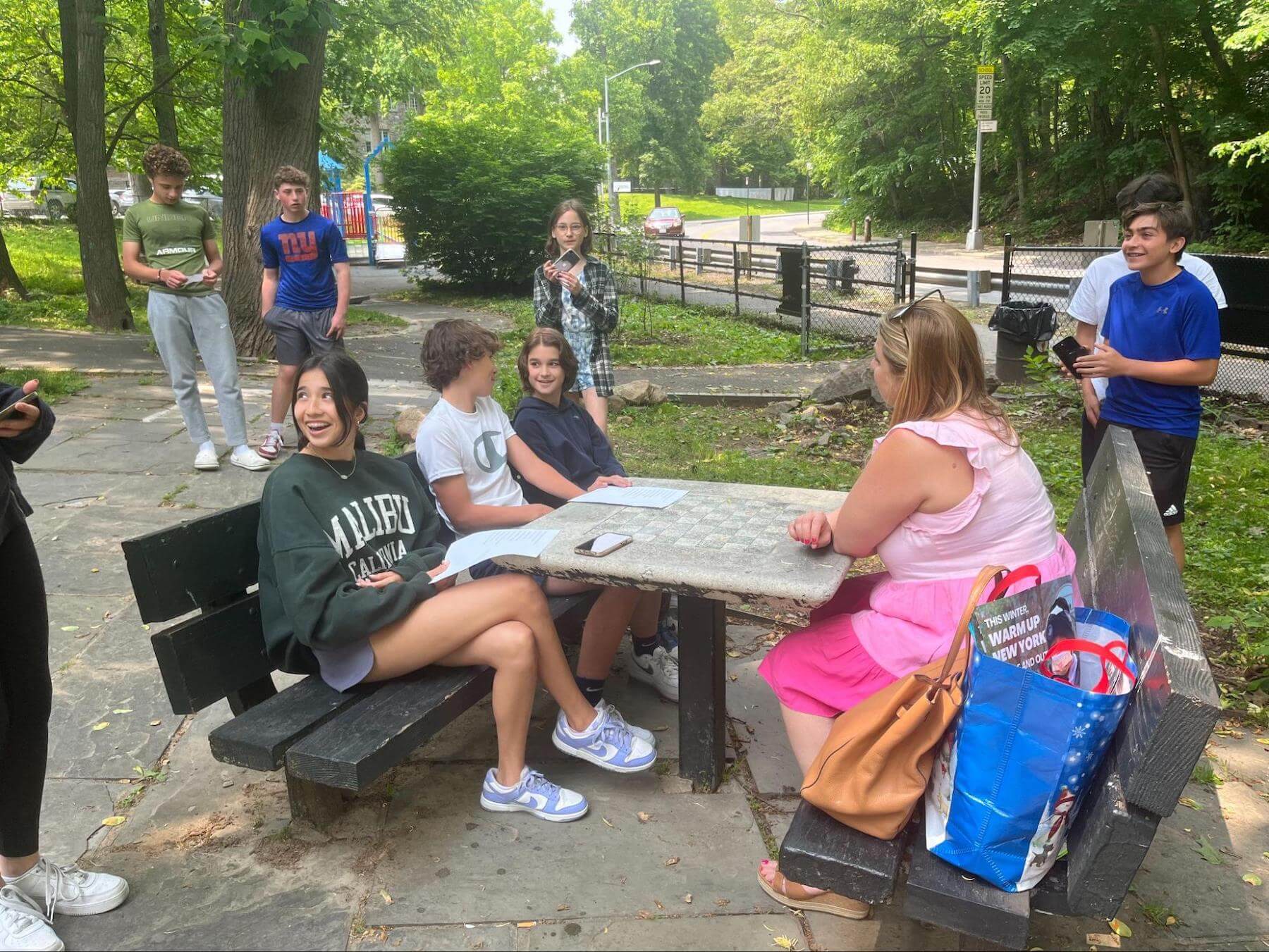 The project also encouraged students to explore their creativity while creating their final documentaries. Inspired by a social media trend, a group filmed a small portion of their assignment in the visual style of famed filmmaker Wes Anderson. Others mimicked common documentary styles to format their work. By fulfilling the various project roles related to filmmaking, students could also pursue budding interests in this field before high school will present more opportunities to develop those skills.
The capstone project culminated on the last day of school, hours before the 8th Grade attended their moving up celebration. After the rest of the Fieldston Middle community applauded the 8th Grade as they left their final Town Hall, 6th and 7th Graders watched two standout capstone videos before being dismissed. 8th Graders then returned to the auditorium to watch more documentaries during their very own "Oscars" ceremony, complete with popcorn and a red carpet. Behrens and Tuber served as hosts, awarding advisories in categories such as Best Film Editing, Best Cinematography, Best Directing, and Best Picture.
Demonstrating both the ethical and creative knowledge they've honed over the last three years, the 8th Graders ultimately created documentaries reflecting a key ECFS lesson they'll revisit in the years to come. "The project taught me that even if you're one person, you can still have such an impact on others to form a larger community," Sarah says.
"The students understood the importance and the weight of an ECFS education in today's world," says Chair of the Board of Trustees Kimberly Smith Spacek '91, P'27, P'33, who regularly partners with the Robin Hood Foundation. "It's not only important to talk about making the world a more empathetic place but to do the work to get us there."