When news broke that the ECFS campuses would not reopen for the remainder of the 2019–2020 school year due to the COVID-19 pandemic, students, families, and faculty and staff were all understandably disheartened. For the Fieldston Upper Environmental Club, this news meant the event they had been planning for over a year — the first ever Bronx Youth Climate Summit — was in jeopardy.
Last spring, the Environmental Club sent their initial proposal to Fieldston Upper Principal Nigel Furlonge: They wanted to host a youth climate summit, focusing on the Bronx, which would be open to all students from both independent and public schools in District 10. For the past several months, the Environmental Club worked tirelessly, reaching out to the administrations of each school, soliciting local and national organizations to lead workshops, finding a keynote speaker, and planning all the logistics for an in-person event.
And then, in one moment, they saw all of their plans washed away. The students were faced with a difficult choice: cancel the event, or try to host a virtual summit — something that had never been done before and would surely mean many hours of work. The students from the Environmental Club knew that amidst the pandemic and global shutdown, the environmental crisis rages on. They committed to hosting the summit virtually.
"I had almost given up on it," says Emma V. '20, one of the leaders of the Environmental Club. "We had been working on it for so long, and I couldn't imagine switching it to virtual." But Emma was encouraged by her fellow club leaders, Hank M. '20 and Spencer L. '20, and together they began to reimagine the event.
"I was really proud of our group, because the second it was announced that we weren't coming back to school, we started an email exchange to figure out what to do," says Hank. "It would have been very easy to cancel and not go through with all the other emails and reaching out to schools and organizations, but everyone was totally on board with continuing it and doing whatever we could to put it on."
---
The students found themselves treading into uncharted waters: No one had ever hosted a virtual youth climate summit before. Their first step was to postpone the event, as the students knew they would need more time to plan if they were going to be successful.
Once they chose a new date, the students realized they could make another significant change: hosting the event virtually meant they could extend the invitation to schools outside of District 10 in the Bronx. In the end, the summit drew attendees from around North America, including Canada, California, Alaska, Washington, and Colorado.
Howard Waldman, Fieldston Upper Science Teacher and advisor to the Environmental Club, was incredibly impressed with the students' ability to reimagine the event. "This group of students proved themselves to be among the most highly organized, collaborative, and dedicated group of students I've ever seen work on any project," he says. "They didn't need me; I was just glad I could help a little and have a front-row seat."
While planning for the reimagined summit, the students faced the challenge of how to design virtual programming that was engaging, inspiring, and informative. "We wanted to make sure that people didn't just sign off after the first session," says Hank.
"You want it to be interactive; you don't want to just be staring at a screen," explains Emma. The students scrapped their original plan for the day — which involved a keynote address followed by a few smaller group sessions — and instead partnered with additional organizations to offer more hands-on workshops and breakout discussions. Some workshops, such as a session on community gardening led by the Van Cortlandt Park Alliance, focused on the Bronx but offered information that can be applied anywhere. Another discussion, led by the Alliance for Climate Education, spoke more broadly about climate justice around the world, featuring speakers from New York and Bangladesh.
This group of students proved themselves to be among the most highly organized, collaborative, and dedicated group of students I've ever seen work on any project.
Throughout the day, ECFS students also facilitated discussion groups on environmental justice, wildlife conservation, sustainable technology, and climate policy — all while making sure the technology powering the summit worked correctly for all the attendees.
With separate Google Meets for every workshop and breakout group, there were plenty of opportunities for glitches to jeopardize the event. "Links wouldn't work, and we had to figure out what was going on. It was definitely more hectic than 'Go to this room, and if the smartboard doesn't work, let us know and we'll figure it out,'" says Emma.
However, the students kept their cool and handled every technical issue that arose. "If everything had gone smoothly, that would be an accomplishment. But the fact that so many things went wrong and we fixed them — I'm really proud of that," says Emma.
In spite of technical glitches, or perhaps because of how well they were handled, the event was perceived as a massive success and a benchmark for future virtual climate summits. "This was done so smoothly and professionally by them. I was amazed," says Waldman.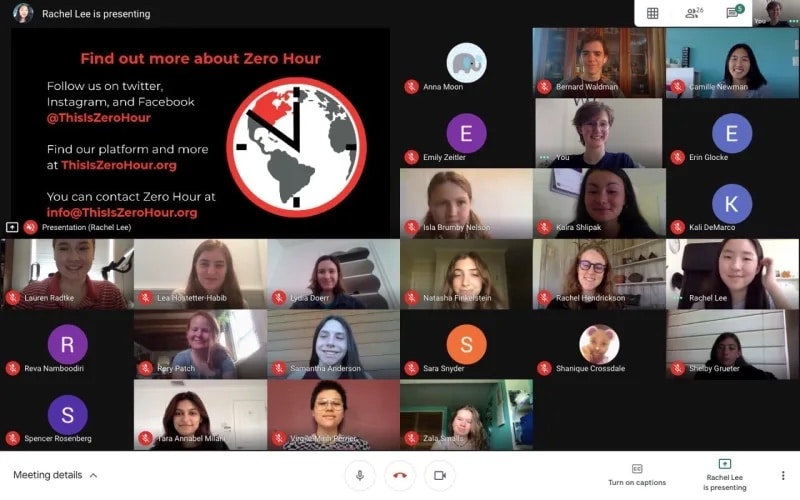 For the culminating event of the day, each school group designed their own climate action plan for something feasible that could be done in the near future to effect real change in their communities — quite the challenge in the context of remote learning. ECFS students felt proud of the fact that each school walked away from the summit with a concrete plan. "When you do the math, one conference can do a lot," explains Hank. "Every kid is bringing a climate action plan back to their school, and each environmental club has a group of kids who are going on to different colleges where they can spread these ideas. It really does branch out and affect a lot of people."
For the seniors in the club, simply being able to hold the event was a point of pride. "The thing I was most upset about losing this semester was the summit, and we didn't end up losing it," says Emma. "For me, that felt like Graduation. I had this moment afterwards of knowing that this was a really big accomplishment for us as a club and as a community."
The seniors now pass the torch to the younger students in the club, Ryan Z. '21 and Lucy T. '22, who are hoping to hold an in-person summit next year, if possible. If not, they know that a virtual summit can be successful, and they will continue to do whatever it takes to combat the climate crisis, leading the charge as changemakers for a better world.